Week 1 Player Props: Passing Yards for Russell Wilson from EV Insight
EVAnalytics Player Insight
Sep 07, 2022, 8:00 PM EDT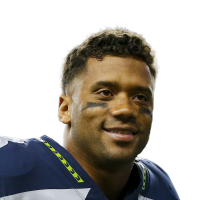 Russell Wilson
Passing Yards
Player Props - Week 1
Seahawks vs. Broncos
Right now, Russell Wilson's passing yards prop is set at 253.5 yards (-110/-110).
The public has bet up the UNDER
down to 253.5 (-110) after it opened @ 254.5 (-115).
Pros
The Denver Broncos will have a new play-caller this year in head coach Nathaniel Hackett, and THE BLITZ projects their pass/run mix to skew 2.5% more towards passing than it did last year (context-neutralized).
The weatherman calls for 4-mph wind in this game. Low wind usually means increased pass volume, increased touchdown potential, and better passing efficiency.
The Seattle Seahawks safeties rank as the 4th-worst collection of safeties in the NFL since the start of last season in covering receivers.
The Denver Broncos O-line has allowed their quarterback 2.68 seconds before the pass (6th-best in the NFL since the start of last season), which has a strong impact on all pass attack stats across the board.
The Seattle Seahawks have stacked the box versus opponents on 19.9% of their plays since the start of last season, 7th-most in the league. Keeping an extra defender near the line of scrimmage improves run-stopping at the expense of better passing efficiency.
Cons
The Broncos are a 6.5-point favorite in this week's contest, likely leading to a rushing game script.
THE BLITZ projects the Denver Broncos as the 2nd-least pass-heavy offense on the slate this week with a 55.6% pass rate, accounting for their underlying tendencies and matchup dynamics.
THE BLITZ projects this game to have the least plays run out of all the games this week at 124.1 plays, based on the tendencies of each team and game dynamics.
The Denver Broncos have called the 6th-least plays in the NFL since the start of last season, averaging a measly 60.5 plays per game.
THE BLITZ projects Russell Wilson to attempt 33.5 passes in this week's game, on average: the least of all quarterbacks.
Projection
THE BLITZ
251
Passing Yards
Leaderboard
({{p.wins}} - {{p.total - p.wins}})