Week 2 Player Props: Passing Yards for Josh Allen from EV Insight
EVAnalytics Player Insight
Sep 16, 2022, 4:00 PM EDT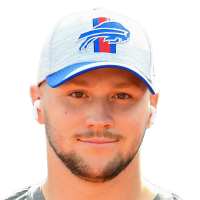 Player Props - Week 2
Bills vs. Titans
Right now, Josh Allen's passing yards prop is set at 260.5 yards (-110/-110).
The public has bet up the UNDER
down to 260.5 (-110) after it opened @ 263.5 (-115).
Pros
THE BLITZ projects the Buffalo Bills to be the 2nd-most pass-heavy team in the NFL (in a neutral context) at the present time with a 68.0% pass rate.
The Buffalo Bills have run the 5th-most plays in football since the start of last season, totaling a whopping 65.3 plays per game.
The Buffalo Bills have played in the most "bad weather" (rain, snow, or 15+ mph wind) games in the NFL since the start of last season, which should lead to higher pass volume, reduced running volume, and improved pass game efficiency when facing better conditions in this game.
Josh Allen has attempted 35.4 throws per game since the start of last season, grading out in the 75th percentile among quarterbacks.
Opposing teams have averaged 35.8 pass attempts per game versus the Tennessee Titans defense since the start of last season: 10th-most in football.
Cons
The Bills are a big 10-point favorite this week, indicating an extreme rushing game script.
THE BLITZ projects this game to see the 2nd-least plays run on the slate this week at 126.4 plays, based on the tendencies of each team and game dynamics.
The weather report calls for 13-mph wind in this game. High wind usually means reduced pass volume (and higher run volume) and worse passing efficiency.
The Tennessee Titans safeties project as the 2nd-best group of safeties in the league since the start of last season in covering receivers.
The Buffalo Bills have gone up against a stacked the box on a measly 13.2% of their plays since the start of last season, 7th-least in the NFL. Keeping an extra defender near the line of scrimmage improves run-stopping at the expense of better passing efficiency.
Projection
THE BLITZ
256
Passing Yards
Leaderboard
({{p.wins}} - {{p.total - p.wins}})