Week 4 Player Props: Passing Yards for Lamar Jackson from EV Insight
EVAnalytics Player Insight
Sep 28, 2022, 6:00 PM EDT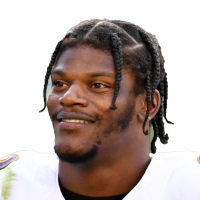 Lamar Jackson
Passing Yards
Player Props - Week 4
Ravens vs. Bills
Right now, Lamar Jackson's passing yards prop is set at 230.5 yards (-105/-125).
The public has bet the OVER
up to 230.5 (-105) after it opened @ 229.5 (-114).
Pros
The Ravens are a 3.5-point underdog in this week's contest, indicating a passing game script.
The Baltimore Ravens offensive line ranks as the 7th-best in the NFL since the start of last season in protecting the QB, which has a strong effect on all passing offense metrics across the board.
Lamar Jackson has been among the best QBs in football since the start of last season, averaging an impressive 240.0 yards per game while grading out in the 76th percentile.
Lamar Jackson's passing effectiveness has been refined this season, accumulating 8.49 yards-per-target compared to a mere 7.48 mark last season.
The Buffalo Bills have stacked the box versus opponents on 19.5% of their plays since the start of last season, 9th-most in the NFL. Positioning an extra defender close to the line of scrimmage improves run-stopping at the expense of better passing efficiency.
Cons
THE BLITZ projects the Baltimore Ravens as the 6th-least pass-centric team on the slate this week with a 53.9% pass rate, given their underlying tendencies and matchup dynamics.
THE BLITZ projects the Baltimore Ravens offense as the 5th-slowest paced team in the NFL (adjusted for context) at the present time, averaging 29.87 seconds per play.
The forecast calls for 16-mph wind in this game. High wind usually means lower pass volume (and increased run volume) and worse passing efficiency.
THE BLITZ projects Lamar Jackson to attempt 31.3 passes in this game, on average: the 6th-least of all quarterbacks.
Opposing teams have averaged 31.3 pass attempts per game against the Buffalo Bills defense since the start of last season: 5th-least in football.
Projection
THE BLITZ
184
Passing Yards
Leaderboard
({{p.wins}} - {{p.total - p.wins}})