Week 18 Player Props: Rushing Yards for Miles Sanders from EV Insight
EVAnalytics Player Insight
Jan 08, 2023, 12:00 PM EST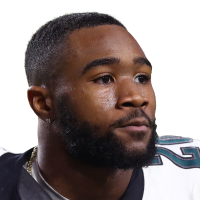 Miles Sanders
Rushing Yards
Player Props - Week 18
Eagles vs. Giants
Right now, Miles Sanders's rushing yards prop is set at 72.5 yards (-115/-110).
The public has bet the OVER
up to 72.5 (-115) after it opened @ 67.5 (-110).
Pros
The Eagles are a massive 17-point favorite in this game, likely creating an extreme rushing game script.
THE BLITZ projects the Philadelphia Eagles as the 2nd-most run-heavy team on the slate this week with a 51.2% run rate, based on their underlying tendencies and matchup dynamics.
THE BLITZ projects this game to have the most plays run out of all the games this week at 138.6 plays, given the tendencies of each team and game dynamics.
Miles Sanders has rushed for a lot more yards per game (76.0) this year than he did last year (57.0).
The New York Giants defense owns the 3rd-worst efficiency against opposing rushing attacks this year, conceding 5.30 yards-per-carry.
Cons
The weather report calls for 3-mph wind in this game. Low wind usually means increased pass volume, increased touchdown potential, and better passing effectiveness.
The New York Giants defensive tackles project as the 2nd-best collection of DTs in the league this year when it comes to run defense.
The Philadelphia Eagles have faced a stacked the box on 18.9% of their plays since the start of last season, 7th-most in the NFL. Positioning an extra defender close to the line of scrimmage improves run-stopping at the expense of better passing efficiency.
The Philadelphia Eagles have used motion in their offense on 28.1% of their plays since the start of last season (4th-least in football), which usually makes an offense more predictable and less effective.
Leaderboard
({{p.wins}} - {{p.total - p.wins}})